Neutrophil plasticity enables the development of pathological microenvironments: implications for cystic fibrosis airway disease
Molecular and Cellular Pediatrics
2016
3:38
Received: 26 September 2016
Accepted: 4 November 2016
Published: 5 December 2016
Abstract
Introduction
The pathological course of several chronic inflammatory diseases, including cystic fibrosis, chronic obstructive pulmonary disease, and rheumatoid arthritis, features an aberrant innate immune response dominated by neutrophils. In cystic fibrosis, neutrophil burden and activity of neutrophil elastase in the extracellular fluid have been identified as strong predictors of lung disease severity.
Review
Although neutrophils are generally considered to be rigid, pre-programmed effector leukocytes, recent studies suggest extensive plasticity in how neutrophil functions unfold upon recruitment to peripheral tissues, and how they choose their ultimate fate. Indeed, upon migration to cystic fibrosis airways, neutrophils display dysregulated lifespan, metabolic activation, and altered effector and regulatory functions, consistent with profound adaptation and phenotypic reprogramming. Licensed by signals present in cystic fibrosis airway microenvironment to survive and develop these novel functions, neutrophils orchestrate, in partnership with the epithelium and with the resident microbiota, the evolution of a pathological microenvironment. This microenvironment is defined by altered proteolytic, redox, and metabolic balance and the presence of stable luminal structures in which neutrophils and microbes coexist.
Conclusions
The elucidation of molecular mechanisms driving neutrophil plasticity in vivo will open new treatment opportunities designed to modulate, rather than block, the crucial adaptive functions fulfilled by neutrophils. This review aims to outline emerging mechanisms of neutrophil plasticity and their participation in the building of pathological microenvironments in the context of cystic fibrosis and other diseases with similar features.
Keywords
Amino acidsExocytosisGlucoseInflammationImmunometabolismReprogramming
Introduction
Neutrophils constitute the first line of defense against infection in most organisms. It is estimated that the human body produces 109 neutrophils/kg/day, making them the most abundant leukocytes in bone marrow (BM) and blood. Neutrophils play an important role in protective immunity, which explains the severe pathologies arising upon hereditary or acquired impairment of neutrophil number and function. Blood neutrophils are conventionally thought of as terminally differentiated cells with little license to adapt to conditions within tissues beyond their ability to kill pathogens intracellularly by phagocytosis, or extracellularly by degranulation or release of DNA-based neutrophil extracellular traps (or NETs) in a recently discovered process dubbed "NETosis".
However, in the context of cystic fibrosis (CF) lung disease, neutrophils show complex properties, detailed below, that come in stark contrast with the rigid pre-programmed phenotype generally expected of them and instead emphasize their inherent plasticity. CF is a hereditary, recessive disease that predominately impacts individuals of European ancestry. According to the World Health Organization, its incidence varies between 1 in 2000 and 1 in 3500 newborns worldwide. The gene mutated in CF patients encodes the CF transmembrane conductance regulator (CFTR), an ATP-binding cassette family member that regulates the movement of anions, such as chloride, bicarbonate, thiocyanate, and glutathione (GSH), across the plasma membrane [1, 2]. So far, more than 1800 disease-causing mutations have been identified among CF patients, with the F508Del mutation being the most frequent (~70% of mutated alleles) [3, 4]. Digestive enzyme supplements have noticeably increased CF patients' lifespan and shifted the main cause of morbidity from nutrient malabsorption due to pancreatic failure to chronic lung disease [5].
Impaired mucociliary clearance, bacterial infection, and neutrophilic inflammation are all hallmarks of CF lung disease [6, 7]. Among those, neutrophil burden and extracellular activity of the protease neutrophil elastase (NE) in CF airway fluid correlate best with disease progression in CF patients, from infancy to adulthood [8]. The role of neutrophil inflammation in CF pathophysiology has been exhaustively reviewed elsewhere [9–11]. Recent reviews detail the putative role of other immune cells, such as macrophages, in CF lung disease [12–14]. In the present review, our goal is to direct the attention of the reader to the phenotypic reprogramming process that neutrophils undergo in the context of CF lung disease, and explore potential mechanisms and treatment opportunities afforded by this newly discovered process. Importantly, this new view of neutrophils, which we illustrate in the context of CF, echoes recent findings made in the context of acute infection and sepsis, as well as other chronic inflammatory diseases such as chronic obstructive pulmonary disease (COPD), rheumatoid arthritis (RA), and systemic lupus erythematosus, as well as cancer, where neutrophils also display new, complex phenotypes and effector functions [15].
Review
Neutrophil plasticity in CF lung disease: emergent mechanisms
Conclusions
In the last decade, monumental progress has been made to understand the processes characterizing the peculiar situation of CF lung disease. Despite extensive work, there is much more to be explored regarding neutrophil functions and plasticity, and their ability to occupy a central place in the development of a pathological microenvironment in CF lungs (Fig.
3
).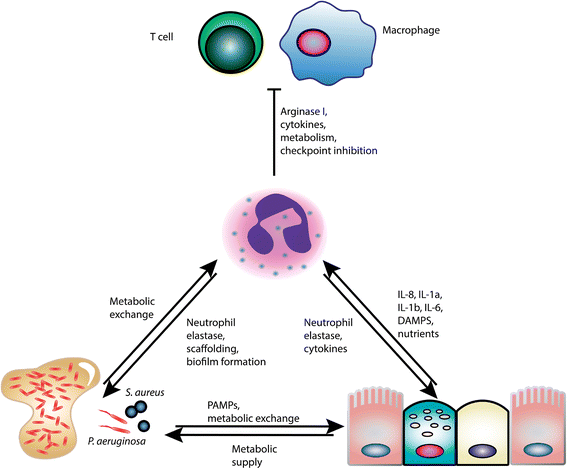 Neutrophils currently enjoy renewed interest from basic and clinical researchers, as emerging evidence supports the idea that mechanisms of metabolic and functional plasticity described here are not confined to CF. Therefore, a better understanding of molecular mechanisms underlying neutrophil plasticity and neutrophil-epithelium-microbial partnership should help identify novel targets for treatments aiming to normalize pathological microenvironment development in CF, and similar neutrophil-driven diseases such as COPD, RA, and certain forms of cancer. Expanding our knowledge in terms of crosstalk between metabolic switching, interconnecting pathways and effector functions in neutrophils will be of high value for innumerable reasons. To close this review, we invite readers to consult Fig.
4
, which lists several of the open questions pertaining to neutrophil plasticity and function that will need to be addressed in the near future.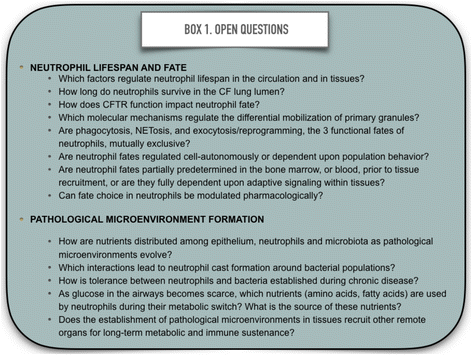 Abbreviations
BALF:

Bronchoalveolar lavage fluid
BM:

Bone marrow
CF:

Cystic fibrosis
CFTR:

Cystic fibrosis transmembrane conductance regulator
COPD:

Chronic obstructive pulmonary disease
DAMPs:

Damage-associated molecular patterns
GSH:

Glutathione
HIF1α:

Hypoxia-inducible factor 1α
IL-8:

Interleukin-8
MMP9:

Matrix metalloproteinase 9
MPO:

Myeloperoxidase
NE:

Neutrophil elastase
PAMPs:

Pathogen-associated molecular patterns
PAR:

Protease-activated receptor
PD-L1:

Programmed death ligand 1
RA:

Rheumatoid arthritis
TIMP:

Tissue inhibitor of metalloproteinase
TLR:

Toll-like receptor
Declarations
Acknowledgements
We would like to acknowledge B. Ford for early edits to the manuscript and research groups that have contributed to this field of research. We apologize for omitting select studies from the bibliography due to limitations inherent to this review.
Funding
NIH/NHLBI R01HL126603 and CF Foundation TIROUV15A0 were given to RT.
Authors' contributions
CM and RT defined the plan for the manuscript and content of tables and figures; CM drafted the manuscript, tables, and figures; RT corrected and undertook the final editing. Both authors read and approved the final manuscript.
Competing interests
The authors declare that they have no competing interests.
Open AccessThis article is distributed under the terms of the Creative Commons Attribution 4.0 International License (http://creativecommons.org/licenses/by/4.0/), which permits unrestricted use, distribution, and reproduction in any medium, provided you give appropriate credit to the original author(s) and the source, provide a link to the Creative Commons license, and indicate if changes were made.
Authors' Affiliations
(1)
Department of Pediatrics, Emory University School of Medicine, Atlanta, USA
(2)
Center for CF and Airways Disease Research, Children's Healthcare of Atlanta, Atlanta, USA
(3)
Emory + Children's Center, Atlanta, USA