Fructose malabsorption
Molecular and Cellular Pediatrics
2016
3:10
Received: 15 December 2015
Accepted: 4 February 2016
Published: 16 February 2016
Abstract
Incomplete intestinal absorption of fructose might lead to abdominal complaints such as pain, flatulence and diarrhoea. Whether defect fructose transporters such as GLUT5 or GLUT2 are involved in the pathogenesis of fructose malabsorption is a matter of debate. The hydrogen production by colonic bacteria is used for diagnosis with the hydrogen breath test. However, the appropriate fructose test dose for correct diagnosis is unclear. Subjects with fructose malabsorption show increased breath hydrogen levels and abdominal symptoms after fructose administration but do not report any symptoms when fructose is given together with glucose. This beneficial effect of glucose, however, cannot be explained yet but might be used for clinical care of these subjects.
Keywords
Fructose malabsorptionGlucose transportersGLUTsHydrogen breath test
Background
The complex process of sugar digestion and absorption can be disturbed due to defect digestion enzymes or monosaccharide transporters. Lactose malabsorption is caused by variants in the promoter region of the
LCT
gene coding for lactase-phlorizin hydrolase. Consequently, the cleavage of lactose in its components glucose and galactose is impaired [
1
]. In patients with glucose-galactose malabsorption, mutations in the
SLC5A1
coding region result in truncated or mistargeted glucose-galactose transporter SGLT1. Due to impaired absorption of glucose and galactose, newborns develop life-threatening diarrhoea and dehydration [
2
]. The molecular and the genetic causes of fructose malabsorption are unknown. Like other sugar malabsorptions, the disease is characterized by colicky abdominal pain, flatulence and diarrhoea. These symptoms are caused by bacterial fermentation of unabsorbed fructose in the colon resulting in production of hydrogen, carbon dioxide, methane and short-chain fatty acids. Moreover, the increased sugar load in the colon might cause osmotic diarrhoea (Fig.
1
). Patients should avoid fructose-rich food such as apples, pears and red peppers. Nutrition anamnesis is often not helpful for making diagnosis since affected subjects instinctively avoid fructose-rich foods. For therapy, the beneficial effect of glucose on fructose absorption is used. Patients tolerate fruits such as bananas or grapefruits which contain fructose and glucose in at least equimolar concentrations. Apples are not tolerated because of their high fructose (7 g/apple) and lower glucose (2.3 g/apple) content (ratio 3:1). Furthermore, the simultaneous intake of glucose can avoid symptoms after fructose consumption.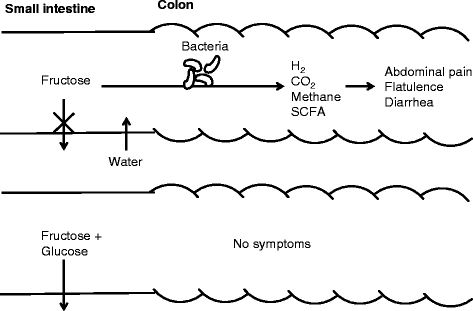 Conclusion
The pathophysiology of fructose malabsorption remains unclear. If there are genetic or epigenetic variations in intestinal fructose transporters such as GLUT5, GLUT2 or SGLT4 needs to be elucidated. Genetic variants within the GLUT5 coding regions are unlikely but not excluded as reason for impaired fructose absorption. There are first hints that GLUT5 and GLUT2 expression is not lower in affected subjects. Probably, there are different mechanisms leading to this condition. To elucidate the underlying mechanism, genetic analysis in well-defined cases and controls should be performed either by candidate gene approach or complete genome sequencing. Because the absorption capacity for fructose is highly individual, it is difficult to determine the right dose for HBT. There is agreement that 50 g fructose in adults or 2 g/kg fructose in children exceed the absorption capacity of the majority. A dose of ≤25 g in adults or ≤1 g/kg in children seems to be appropriate. The variance of breath test results at different times of the day and the reproducibility should be assessed. It remains unclear why increased gas production in the intestine during HBT does not necessarily cause abdominal symptoms. Possible, the intestinal sensitivity and pain perception is highly individual. Whether fructose malabsorption is more common in IBS patients needs to be verified. However, restriction of fructose and other fermentable saccharides can be helpful in therapy. To clarify the absorption enhancing effect of glucose, it is important to understand the mechanisms of intestinal sugar transport and to gain insights into possible interactions of sugar transporters. To address this question, future studies should verify the assumption that different amino acids also promote fructose absorption.
Abbreviations
DBPC:

double-blinded placebo-controlled
GLUT:

glucose transporter
HBT:

hydrogen breath test
SSCP:

single-strand conformational polymorphism
Declarations
Acknowledgements
This work was supported by Deutsche Forschungsgemeinschaft (GRK 1482).
Open AccessThis article is distributed under the terms of the Creative Commons Attribution 4.0 International License (http://creativecommons.org/licenses/by/4.0/), which permits unrestricted use, distribution, and reproduction in any medium, provided you give appropriate credit to the original author(s) and the source, provide a link to the Creative Commons license, and indicate if changes were made.
Authors' Affiliations
(1)
Pädiatrische Ernährungsmedizin, Klinikum rechts der Isar (MRI), Technische Universität München (TUM), Freising, Germany
(2)
Else Kröner-Fresenius-Zentrum für Ernährungsmedizin (EKFZ), Technische Universität München (TUM), Freising, Germany
(3)
Zentralinstitut für Ernährungs- und Lebensmittelforschung (ZIEL), Technische Universität München (TUM), Freising, Germany