Underlying molecular and cellular mechanisms in childhood irritable bowel syndrome
Molecular and Cellular Pediatrics
2016
3:11
Received: 15 December 2015
Accepted: 4 February 2016
Published: 16 February 2016
Abstract
Irritable bowel syndrome (IBS) affects a large number of children throughout the world. The symptom expression of IBS is heterogeneous, and several factors which may be interrelated within the IBS biopsychosocial model play a role. These factors include visceral hyperalgesia, intestinal permeability, gut microbiota, psychosocial distress, gut inflammation, bile acids, food intolerance, colonic bacterial fermentation, and genetics. The molecular and cellular mechanisms of these factors are being actively investigated. In this mini-review, we present updates of these mechanisms and, where possible, relate the findings to childhood IBS. Mechanistic elucidation may lead to the identification of biomarkers as well as personalized childhood IBS therapies.
Keywords
Irritable bowel syndromeChildrenFODMAPBile acidSerotoninGenetics
Introduction
Chronic abdominal pain is highly prevalent affecting up to 25 % of schoolchildren worldwide [1, 2]. Using conventional diagnostic tools, the majority of children with chronic abdominal pain will not have an organic etiology; as a result, they are diagnosed as having an abdominal pain-related functional gastrointestinal disorder (FGID) [3, 4].
Based on the symptoms suffered by the individual, FGIDs are classified further into functional dyspepsia, functional abdominal pain, and irritable bowel syndrome (IBS) [3]. Of the abdominal pain-related FGIDs, IBS is the most prevalent, encompassing approximately 60 % of children with a FGID [5]. Based on the predominant stool form, IBS is further phenotypically subtyped into IBS with constipation (IBS-C), IBS with diarrhea (IBS-D), IBS mixed subtype (IBS-M), and IBS un-subtyped (IBS-U) [6]. These subtypes occur in children and adults with IBS; however, in children IBS-C and IBS-U are more prevalent than in adults [7]. It is generally believed that IBS subtyping increases the likelihood of identifying underlying unique pathobiological processes specific to each IBS subtype [6]. However, it should be noted that IBS subtype may change over 12 months in up to 24 % of children [8].
There are several factors which may play a role in the symptom expression in a child with IBS including: visceral hyperalgesia, intestinal hyperpermeability, gut microbiome composition, psychosocial distress, food intolerance, colonic bacterial fermentation, genetics, and gut inflammation [
5
,
9
]. Each process may play a lesser or greater role in one individual as compared to another; therefore, IBS is often approached via a biopsychosocial model (Fig.
1
) [
10
].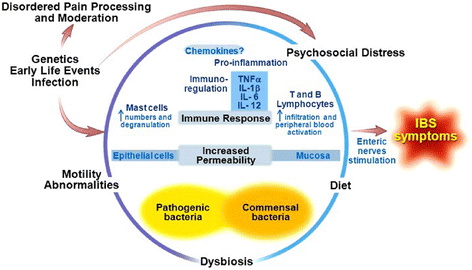 Investigators continue to actively explore several concurrent areas of potential IBS pathobiology. In this mini-review, we present updates within several potential pathobiological factors in IBS with an emphasis on the underlying molecular and cellular mechanisms. When possible, we focus on data and studies relevant specifically to children. Further understanding cellular and molecular mechanisms may one day lead to both the identification of reliable biomarkers as well as personalized IBS therapies.
Abbreviations
5-HT:

5-hydoxytryptamine
5-HT3:

5-hydroxytryptamine receptor 3
5-HTTLPR:

5-HT transporter-linked polymorphic region
CDCA:

chenodeoxycholic acid
CGRP:

calcitonin-related gene peptide
FGID:

functional gastrointestinal disorder
FGF19:

fibroblast growth factor 19
FODMAP:

fermentable oligosaccharides, disaccharides, monosaccharides, and polyols
FXR:

farnesoid X receptor
H1R:

histamine-1 receptor
IBS:

irritable bowel syndrome
IBS-C:

IBS with constipation
IBS-D:

IBS with diarrhea
IBS-M:

IBS mixed subtype
IBS-U:

IBS un-subtyped
Ig:

immunoglobulins
NGF:

neuronal growth factor
NK1:

neurokinin 1 receptor
PAR2:

proteinase-activated receptor-2
PG:

prostaglandins
SERT:

serotonin transporter
SP:

substance P
TLR:

toll-like receptor
TrkA:

receptor for nerve growth factor
TRPV1:

transient receptor vanilloid 1
Declarations
Acknowledgements
Financial and/or intellectual support during the conduct of the study was provided by NIH K23 DK101688 (BPC) and NIH R01 NR013497 and the Daffy's Foundation (RJS), the USDA/ARS under Cooperative Agreement No. 6250-51000-043 (RJS), and P30 DK056338 which funds the Texas Medical Center Digestive Disease Center (BPC, RJS).
Open AccessThis article is distributed under the terms of the Creative Commons Attribution 4.0 International License (http://creativecommons.org/licenses/by/4.0/), which permits unrestricted use, distribution, and reproduction in any medium, provided you give appropriate credit to the original author(s) and the source, provide a link to the Creative Commons license, and indicate if changes were made.
Authors' Affiliations
(1)
Department of Pediatrics, Baylor College of Medicine, Houston, USA
(2)
Gastroenterology, Hepatology, and Nutrition, Texas Children's Hospital, Houston, USA
(3)
Children's Nutrition Research Center, Houston, USA
Copyright
© Chumpitazi and Shulman. 2016